First of all, I'd like to state that no negative comments on Luis Suarez stem from being a Manchester United fan. I have grown up respecting Liverpool as a rival club and I have never disliked or hated a player from the club, until now. However I will try to make this discussion as objective as possible *fingers crossed*
The Player
As a footballer, it has to be said that Luis Suarez is a phenomenal football player. His spell at Liverpool and actions for Uruguay have often conveyed passion and desire and he has won many football matches on his own for both La Celeste and The Reds. I have at times, doubted his ability to finish when through on goal, as I have seen him on numerous occasions spurn 'easy' chances. However, having scored 38 goals in 51 league games for the struggling Merseyside club I can hardly doubt his ability to score goals in a truly convincing manner. However, from a personal perspective, I'd still not class him as a striker, and I believe he's best either behind a main striker, or to the left. The early signs of his link-up play with Daniel Sturridge perhaps showed this, and if he were to move to a 'bigger' club, then his chances of consistently playing upfront may be slim. With no disrespect to Liverpool, we don't know Suarez's full footballing mentality at this stage of his career as he's been the 'Big fish in a small pond' as Liverpool FC have been slowly declining over the last three or four years. If Suarez were to move to Bayern Munich or Real Madrid, would he be just as influential? It would indeed, be very interesting to see.
The Man
We all know that there have been many incidents during his spell in England that have negatively affected Luis Suarez's image that he discussed at a press conference recently. However, my main problem with his worry about his image is that at no point did Liverpool FC or the footballing world accuse the man of doing anything that he hadn't allegedly done.
The Handball incident v Ghana
Arguably, this is the one 'bad' incident in Luis Suarez's career that can be justified. Playing for your country should be the pinnacle of any footballer's career, and Suarez did his country proud with his infamous handball v Ghana in the 2010 World Cup. This was a footballing incident and any player would have reacted in the way he did whilst on the pitch. Yet, when sent off I would criticise the man's decision to celebrate in the manner that he did. Obviously, euphoria would have taken over and it would be unfair to criticise the passion he showed. I will ask however, was declaring "The Hand of God belongs to me" a clever statement to make? No, he could have cost his country its place in the World Cup, however fate was on his side. I would have preferred for him to have kept quiet, realised he was very fortunate and to move on from this fortunate (well, not for Ghana) turn of events.
The racial 'incident' with Patrice Evra
This is where it gets tricky for me, as a Manchester United fan, a sociologist studying race, ethnicity & exclusion and an experienced member of the Hispanic culture. I have spent perhaps, a quarter of my life around the Spanish language and I have heard the alleged 'Negrito' word used on hundreds of occasions, not as a racist insult, but as a general complaint, in the same way that some of us may say 'retard'. From my views, Luis Suarez is not a racist person, however his intentions to wind up and hurt Patrice Evra as an individual used racist acts and therefore his actions were wrong. The man is supposed to be a role model for every young Liverpool FC fan and to act in the way he did originally and to follow it up by declining to shake the 'victims' hand, is something I just can't process in any way, shape or form. A handshake takes three seconds, it is a gesture in society that shows respect, good will and common courtesy. However, in football it is not the same as shaking an acquaintance's hand, it is a practice that is watched by millions of people around the world and for Suarez not to get it over and done with, meant that he wanted to further instigate the problematic event. May I ask, who else but Luis Suarez is to blame if he chooses not to shake Patrice Evra's hand? I'd be mortified to think that Kenny Dalglish instructed him not to do it, and I highly doubt it was the case.
Biting...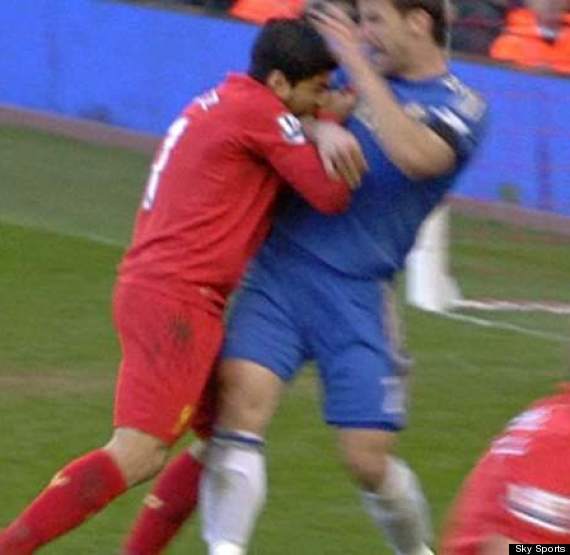 Luis Suarez, this season further added to the controversy that his mouth has caused during his footballing career, however this time it wasn't from speaking. For the second time in his career, he chose to bite a fellow professional footballer. In 2011, whilst playing for Ajax, the man bit Otman Bakkal during a scruff between PSV and Ajax players and was handed a seven game ban. First of all, biting in itself is a peculiar tactic. We've seen punches, kicks, elbows and headbutts whilst watching our beloved game, all of which may be linked to the hegemonic masculine display of being a footballer. Yet, there is something vulgar and animalistic about a bite. I've witnessed Suarez bite two footballers, grabbing the hair (and lower extremities) of Rafael Da Silva and it makes me wonder how the man hasn't been psychologically tested.
The shocking part was that during this game versus Chelsea, the incident came out of nowhere, there was barely even a tangle between the pair moments before the bite happened and Suarez voluntarily chose to run towards Branislav Ivanovic, grab and lift his hand and then chose to sink his teeth in. The bite in Holland was perhaps more subtle and less forceful, and you could see by Ivanovic's reaction that he was not angry, he was bewildered by such an act.
The Man versus The Player
In the 90th minute of the game that Suarez was the villain, he also became the hero by scoring at the death to equalise for Liverpool, and it briefly reminded us all, that the man is still a fantastic footballer. I completely understand that as a person, he may want to leave the country in order to protect his family, and that is a wise and sensible choice if he does not want his family to be hurt. However he needs to take a long, hard look at himself in the mirror and question whether he is the victim or the perpetrator. If Suarez had not been involved in a high number of controversial events, could he be a better player now? Would Liverpool's image and therefore reputation be more respected and would he be classed by all as a 'World Class' footballer? I honestly cannot see how a footballer with such a bad image who has made such choices can be seen as a World Class professional athlete. The man is 26 years old and is entering his peak, he still has time in his career and I hope he chooses the right path, for the sake of his footballing legacy and his family.